Achilles, a new non-rational nutraceutical containing palmitoylethanolamide
Palmitoylethanolamide (PEA) is a all natural painkiiller. It is quite hot and since 2008 Achilles is a new nutraceutical containing palmitoylethanolamide a number of different formulations of PEA has been entering the world wide market. PEA has been proven to be effective and safe in a great number of clinical trials
It all started with Normast 300 mg tablets, matrix tablets containing PEA and some excipients, Normast 600 mg matrix tablets and Normast 600 mg sachets, containing PEA and sorbitol. In all these formulations the amount of PEA in each capsule was around 60-65%. After Normast a pure product was introduced, containing PEA only, without any chemical excipient: PeaPure.
In parralel with Normast Pelvilen was introduced in Italy, as well as Adolene, both containing PEA and a herbal compound, a resveratrol, as well as Glialia, containing PEA with another herbal extract, luteolin.
For all these herbal additions clinical support was flimsy. Now a new herbal mix has been introduced, Achilles, containing in each tablet 100 mg PEA and the rest consists of various herbal extracts, Heteropterys Aphrodisiaca Extract: 250 mg , Cissus Quadrangularis Extract 250 mg , Zingiber Zerumbet Extract 150 mg and Siegesbeckia Orientalis Extract 75 mg. The clinical rationale is totally absent.
Achilles: a non-rational PEA-herbal combination
In the table we summerized the content of all these supplements: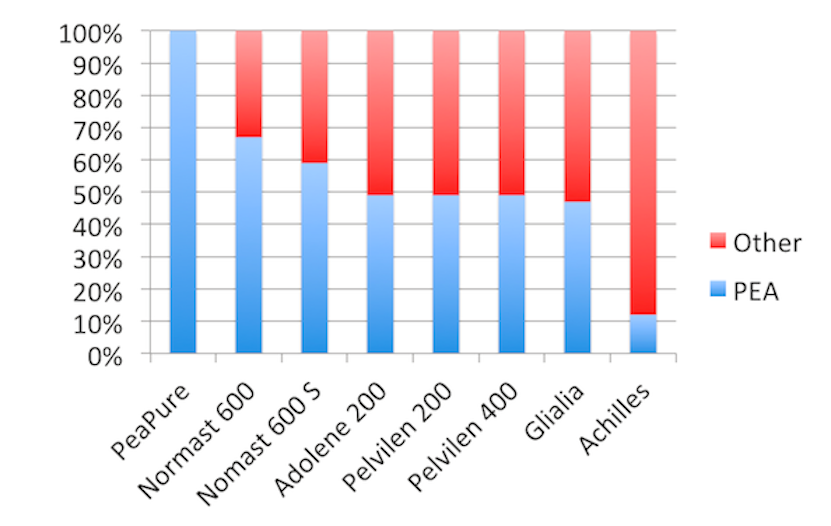 For Achilles we can see that the amount of PEA in each unit of dosing is quite low, nearly 10%. The rest are the phyto-compounds.
These additions are not rational and there has not been any preclinical nor clinical study published supporting this combination. The safety of some of the extracts is unclear and this combination of PEA with herbals is not rational.
The rest of the constituents in Achilles are: Gelatin, Silicon Dioxide and Micrystalline Cellulose (excipients).
Conclusion
Therefore IOCOB concludes that this PEA product needs a orange light. The combination is not rational, and the safety of some of the herbals is unclear.
Patients can be best treated with pure PEA, as in PeaPure 400 mg capsules or Normast. The effective dose is 1200 mg/day. This cannot be reached with Achilles, unless one takes 12 capsules a day, which is not recommended due to the herbal compounds in Achilles.
The addition of the herbals makes the products less reliable and the herbal component might induce side effects. That is unfortunate, especially since PEA itself has an excellent tolerability.