Visolie bij reuma

Visolie lijkt zinvol bij diverse aandoeningen, zoals reuma, astma, atherosclerose, kanker, hart en vaatziekten, colitis, cystic fibrosis, depressie, te hoog cholesterol en schizofrenie. Er zitten in visolie de zogenaamde omega-3 onverzadigde vetzuren. Deze vetzuren blijken veel biologische processen in ons lichaam positief te kunnen beinvloeden. Groningse reumatologen deden in 1990 al een onderzoek naar de effecten van visolie bij reuma, en meenden dat visolie een zinvol supplement was.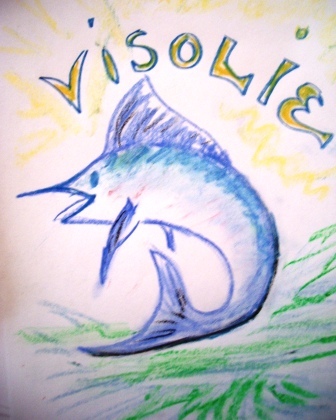 Er is dan ook veel literatuur over de waardevolle eigenschappen van visolie hij reuma. [1][2] [3] [4]
Ook een recente meta-analyse concludeerde dat visolie vermoedelijk zinvol was.
The results suggest that omega-3 PUFAs are an attractive adjunctive treatment for joint pain associated with rheumatoid arthritis, inflammatory bowel disease, and dysmenorrhea. [5]
Natuurlijk zijn de bewijzen voor de effectiviteit van visolie niet geheel sluitend.Men moet van visolie niet te veel nemen, zeker niet meer dan 3 gram per dag. Hogere doseringen kunnen namelijk bloedingen veroorzaken. Visolie bevat twee belangrijke omega-3 vetzuren: EPA en DHA. Er zijn meer positieve effecten van visolie.
De omega-3 vetzuren blijken in modern onderzoek effectiever te zijn dan de zogenaamde statines, reguliere middelen voor het verminderen van sterfte door hart- en vaatziekten en zelfs van totale sterfte. (20)
Er zijn de laatste tijd veel boeken verschenen over visolie. Een bespreking daarvan vindt u op deze site. Ook zijn er uitgebreide artikelen te vinden op het gebied van visolie en ADHD, astma, autisme, bipolaire stoornis, depressie, diabetes, dyslexie, hart- en vaatziekten, psoriasis, reuma, schizofrenie en tandvleesproblemen.
Een voorbeeld op het gebied van astma: Visolie blijkt bij astma positieve effecten te hebben. De bronchoconstrictie die tijdens inspanning optreedt, was beduidend lager bij de patienten die visolie kregen (de dosering was 3.2 g
EPA and 2.0 g DHA ). Ook de ontstekingsbevorderende stoffen in het sputum van de astma patienten was in de visolie groep significant lager (21). Een ander voorbeeld: omega-3 vetzuren verminderen het risico van fatale hartritme stoornissen.
Interacties
Interacties zijn biologische effecten van een middel of supplement op de werking van een ander geneesmiddel. Er zijn positieve en negatieve interacties. Voor de arts en de patient zijn vooral de negatieve interacties van belang. Ookj visolie kent negatieve interacties met geneesmiddelen. Enkele voorbeelden volgen hier.
Patiënten met astma die overgevoelig zijn voor aspirine kunnen extra overgevoelig op aspirine reageren als ze visolie gebruiken.
Bij patiënten die antistollingsmiddelen (bv. warfarine) gebruiken kan de zogenaamde bloedingstijd worden verlengd. Hierdoor kunnen ongewenste bloedingen ontstaan.
Vandaar dat u altijd uw behandelend arts op de hoogte moet stellen van het gebruik van visolie. Men moet ook nooit meer dan 3 gram visolie per dag gebruiken. De risico's van verontreinigingen met zware metalen en pesticiden lijken klein tot afwezig.
Beoordeling
Visolie is uitgebreid bestudeerd en er lijkt bij uiteenlopende ziekten een duidelijke positieve invloed te bestaan. IOCOB beoordeelt supplementen op basis van visolie met een oranjegroen stoplicht.
Sites
Literatuur
(1) Tanskanen A, Hibbeln JR, Tuomilehto J, Uutela A, Haukkala A, Viinamaki H et al. Fish consumption and depressive symptoms in the general population in Finland. Psychiatr.Serv. 2001;52:529-31.
(2) Mischoulon D, Fava M. Docosahexanoic acid and omega-3 fatty acids in depression. Psychiatr. Clin North Am. 2000;23:785-94.
(3) Farmer A, Montori V, Dinneen S, Clar C. Fish oil in people with type 2 diabetes mellitus. Cochrane Database Syst.Rev. 2001;CD003205.
(4) Stenson WF, Cort D, Rodgers J, Burakoff R, DeSchryver-Kecskemeti K, Gramlich TL et al. Dietary supplementation with fish oil in ulcerative colitis. Ann. Intern. Med 1992;116:609-14.
(5) Anti M, Armelao F, Marra G, Percesepe A, Bartoli GM, Palozza P et al. Effects of different doses of fish oil on rectal cell proliferation in patients with sporadic colonic adenomas. Gastroenterology 1994;107:1709-18.
(6) Weiss G, Meyer F, Matthies B, Pross M, Koenig W, Lippert H. Immunomodulation by perioperative administration of n-3 fatty acids. Br J Nutr 2002;87 Suppl 1:S89-S94.
(7) Heller AR, Fischer S, Rossel T, Geiger S, Siegert G, Ragaller M et al. Impact of n-3 fatty acid supplemented parenteral nutrition on haemostasis patterns after major abdominal surgery. Br. J. Nutr. 2002;87 Suppl 1:S95-101.
(8) Rhodes LE, Shahbakhti H, Azurdia RM, Moison RM, Steenwinkel MJ, Homburg MI et al. Effect of eicosapentaenoic acid, an omega-3 polyunsaturated fatty acid, on UVR-related cancer risk in humans. An assessment of early genotoxic markers. Carcinogenesis 2003;24:919-25.
(9) Beckles WN, Elliott TM, Everard ML. Omega-3 fatty acids (from fish oils) for cystic fibrosis. Cochrane.Database.Syst.Rev. 2002;CD002201.
(10) Woods RK, Thien FC, Abramson MJ. Dietary marine fatty aci
ds (fish oil) for asthma in adults and children. Cochrane.Database.Syst.Rev. 2002;CD001283.
(11) Joy CB, Mumby-Croft R, Joy LA. Polyunsaturated fatty acid supplementation for schizophrenia. Cochrane.Database.Syst. Rev. 2003;CD001257.
(12) Thies F, Garry JM, Yaqoob P, Rerkasem K, Williams J, Shearman CP et al. Association of n-3 polyunsaturated fatty acids with stability of atherosclerotic plaques: a randomised controlled trial. Lancet 2003;361:477-85.
(13) Severus WE, Littman AB, Stoll AL. Omega-3 fatty acids, homocysteine, and the increased risk of cardiovascular mortality in major depressive disorder. Harv. Rev. Psychiatry 2001;9:280-93.
(14) Holm T, Berge RK, Andreassen AK, Ueland T, Kjekshus J, Simonsen S et al. Omega-3 fatty acids enhance tumor necrosis factor-alpha levels in heart transplant recipients. Transplantation 2001;72:706-11.
(15) Wallace FA, Miles EA, Calder PC. Comparison of the effects of linseed oil and different doses of fish oil on mononuclear cell function in healthy human subjects. Br. J. Nutr. 2003;89:679-89.
(16) Hawkes JS, Bryan DL, Makrides M, Neumann MA, Gibson RA. A randomized trial of supplementation with docosahexaenoic acid-rich tuna oil and its effects on the human milk cytokines interleukin 1 beta, interleukin 6, and tumor necrosis factor alpha. Am. J. Clin. Nutr. 2002;75:754-60.
(17) Fugh-Berman A., Cott JM. Dietary supplements and natural products as psychotherapeutic agents. Psychosom. Med 1999;61:712-28.
(18) Lewis, C. J. Letter Regarding Dietary Supplement Health Claim for Omega-3 Fatty Acids and Coronary Heart Disease. FDA Docket No. 91N-0103. 10-31-2000. U.S. Fooda nd Drug Administration. http://vm.cfsan.fda.gov/~dms/ds-ltr11.html
(19) Duffy EM, et al. The Clinical effect of dietary supplementation with omega-3 fish oils and/or copper in systemic lupus erythematosus. J. Rheumatology 2004;31(8):1551-6.
(20) Studer M, Briel M, Leimenstoll B, et al. Effect of different antilipidemic agents and diets on mortality: a systematic review. Arch. Intern. Med. 2005;165:725-30.
(21) Mickleborough TD, Lindley MR, Ionescu AA, Fly AD. Protective effect of fish oil supplementation on exercise-induced bronchoconstriction in asthma.Chest. 2006 Jan;129(1):39-49.
Referentie
Gerelateerde artikelen